Meet Our "OG" Cookies
Listed below are our original flavors that are known as the "OGs."
***When we have our limited edition seasonal packs, we do not offer all of our "OG" flavors***
To see all of the cookies we have available this weekend, click here!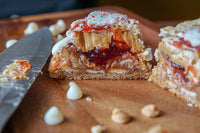 Follow Us on Instagram!
Click here to stay up to date with the latest announcements, launch dates, giveaways, and more!
Follow Us
Reviews From fellow cookie monsters
These are hands down my favorite cookies! I will not be ordering from anywhere else, Hayley is a cookie magician.

Alexis
I seriously can't get enough! Trust me when I say these are top 5 best cookies I've ever tasted- and that's after being shipped across the country!

Steph, @themiafoodie
Best cookies I have ever eaten. Perfect taste, texture and her flavor combos are extraordinary. You will not be disappointed!

Lea
These things are LEGIT. Easily some of the best cookies I've ever had in my life.

Eric Koenreich (@Familyfooddude)
Literally the best cookies I've ever had! Cannot wait to get more!

Lizzie (@lizzieratclif)
Easily the best cookies I've ever had... sorry bank account

Kate (@Klanarsp)
I'm a cookie hoe; I've tried all the insta-famous ones, nothing comes close to Hay Sweeties

Jordyn (@Keepingupwiththemcguires)
Thank you so much for making the best cookies in the world <3

Ian (@schleify)