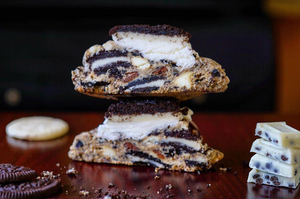 Does anyone else think the cream to cookie ratio in Oreos falls short of all your creamy dreams?!
Well I can guarantee you this Hay Sweetie cookie won't fall short of all your creamy dreams because it is ️ CREAMIER THAN A BISH, literally 
This fluffed and stuff bad boy is a cookies and creme base that has white chocolate chips and milk chocolate chips as well as cookies and creme bars mixed through out. You'll also find  that we don't lack on the "chunkage" game—there are tons of chunks of double stuffed Oreos (because the creamier, the better). And because I know y'all love your cream....this beauty is topped with a double stuffed Oreo smushed into a big blob of a white chocolate marshmallow fluff ️ 
If this doesn't meet your creamy dreams, then I don't know what will!